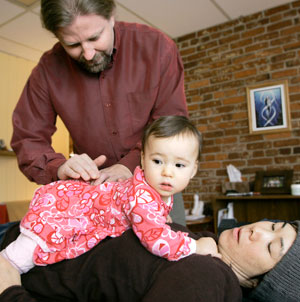 The health care I provide at Heartstone Family Chiropractic is uniquely tailored to each individual; it is gentle and effective work, safe for everyone from a few days old to many years young. Being truly holistic, my work addresses physical, mental, emotional, and chemical issues that are part of your life. Although quality of life and wellness oriented, pain relief is often one of the first positive effects of the adjustment.
If you are tired of pain, persistent chronic patterns or conditions and other health concerns, my work can help you!  Your body has likely wound itself into knots trying to keep you safe from further harm.  The trouble is that sometimes those "helps" can become hindrances if given the right circumstances and most importantly, enough time.
Now it is time for you to unwind those knots and release the energy being held in your body.  With attention, precision and timing, this healing release happens effortlessly as the body remembers the range of options available to it.  From defense, it transitions into safety, and from safety, we then move into growth.
What can happen as we release these patterns?  A recent retrospective study of 2,818 people receiving the chiropractic care I provide demonstrated profound and statistically significant improvements in self-reported wellness areas.
People reported changes in:
Physical Well-BeingReduced pain (all areas of the body)
Improved spinal flexibility
More energy, less fatigue
Better pain management (Chronic Issues)
Fewer cold and flu symptoms
Fewer headaches

Emotional and Psychological Well-Being

Less distress about physical pain
More positive feelings about self
Decreased moodiness
Fewer angry outbursts
More interest in life
Fewer concerns about "small" things
Improved ability to concentrate
Less anxiety
Improved ability to stay on task

Life-Style Changes

More regular exercise
Practicing of Tai Chi/Yoga more often
Increase in meditation and prayer
More open to relaxation and self-hypnosis
More regular consumption of healthy food
Eating partial or total vegetarian
Decreased need for prescription medications

Life Enjoyment
Improved well-being and relaxation
Improved self-esteem
Increased interest in maintaining a healthy lifestyle
Greater openness, compassion when relating to others

Stress

Overall improvement of health and well-being
Increased ability to cope with daily challenges
Improved family relationships
Improved significant relationships
Improvement in work performance

Quality of Life

Improvement of personal life
Greater self-awareness
Increased ability to adapt with change
Improvement in handling life's challenges
Greater overall contentment with life
Improved relationships with significant others
Improved romantic life
Improved job satisfaction
Improvement in relationships with co-workers
Improved physical appearance