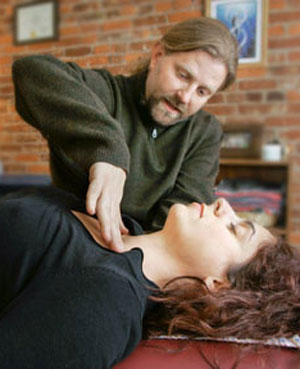 During your first visit, which typically lasts about an hour, Dr. Kevin will consult with you regarding your health concerns and desired outcomes. Following this, he will conduct a thorough health history, perform a complete spinal examination and deliver your first adjustment.   X-rays are not routinely taken in the office; however, should circumstances require it, X-rays and other imaging may be recommended in order to fully support your care and ensure the proper treatment.
You will be asked to lie on a comfortable table, fully clothed, while Dr. Phillips checks your spine. He will palpate (feel) your spine and muscles and perform a series of assessments. From the information gathered, he will deliver a specific light touch entrainment and allow your body to process that information. He will then re-check and see whether another entrainment is necessary and if so, where.   Following the entrainments, other force applications such as manual adjusting of the spine and extremities and trigger point therapy may be utilized.  A typical session may be just one or two entrainments or several, depending on the needs of your body at that time.
Entrainment is defined as the tendency for two oscillating bodies to lock into phase so that they vibrate in harmony. It is also defined as a synchronization of two or more rhythmic cycles. The principle of entrainment is universal, appearing in chemistry, pharmacology, biology, medicine, psychology, sociology, astronomy, architecture and Network Spinal Analysis. The classic example shows individual pulsing heart muscle cells. When they are brought close together they begin pulsing in synchrony.   It is this entrainment phenomenon which allows the body to release both recent and long-standing tensions.
The contacts made are very light, and are usually experienced by people as extremely relaxing.  In addition, specific muscle work may be performed, which allows your body to release stored tension naturally, so that it may function more efficiently.  And, if necessary, standard chiropractic adjustments are delivered with speed, specificity and precise force to enable your joints to have their proper range of motion restored.  Subsequent visits usually require around 20-30 minutes, and are scheduled so that they may fit easily into your busy life.
During your second visit, Dr. Phillips will outline the program of care tailored for you.  He will describe the examination findings and lay out a plan of care designed to meet your health care objectives.  Care in this office is a partnership, so questions are always encouraged and welcomed.