I've heard that once you get adjusted by a chiropractor, you have to keep coming back.  Is this true?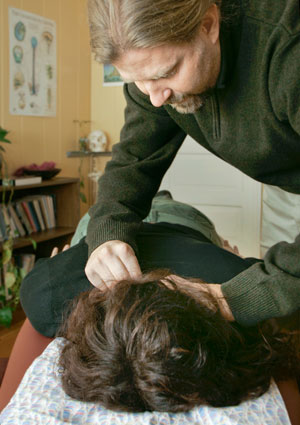 No, it isn't.  However long you choose to enjoy the benefits of chiropractic care is entirely up to you, although I readily admit I recommend lifetime care for the simple reason that our stressors and habits do not simply disappear as we age;  in fact, they often compound.  Thus, I find it natural to include a plan to address those concerns on an on-going basis.  Often, people will continue care because they do not want to go back to how their body used to be when it was stiff and not moving properly.
Does it hurt?   
In my office, the adjustments are very gentle as I typically use very light forces to adjust the spine, and when necessary, stronger forces are used with great precision and speed.  Sometimes, when there are strong muscle spasms, or a long-locked joint is released, there can be some discomfort.  This discomfort does not last long, however.
How does such a light force do anything? 
I often ask myself this question.  My experience has taught me that the body is able to connect the light forces used with the tension already present in the system.  These areas then entrain, or synchronize, with each other, and the tension is reduced as a result.  It is based on the inherent resonance within the spine.
My pain is gone.  Why should I continue with care? 
For many people, getting out of pain is their main objective.  The benefits of chiropractic care do not stop here however.  The best results from care are often found in the changes people begin to see as their bodies get used to being in, and staying in, proper alignment.  Stopping care too soon can lead to the body returning to older, more familiar habit patterns, only to once again lead to pain and reduced function.  However, I am more than happy to create specific care plans tailored to each individual's needs.
Do you take my insurance?   
Most insurance plans cover chiropractic care to some extent.  I am able to bill all insurance companies directly, and am a preferred provider for Blue Cross, Pacific Source, Clear Choice, and Lifewise here in Central Oregon.  Please feel free to call the office with any questions.