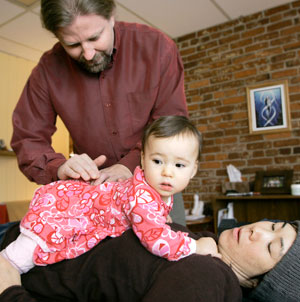 Welcome to Bend, Oregon and to Heartstone Family Chiropractic.  My chiropractic work aims to restore and optimize your body's function, by facilitating the reduction and removal of tension from your spine and nerve system.
This site has two main purposes:  
First, to answer general questions you may have regarding chiropractic care, and secondly, to show you what sets my unique style of work apart.
In my office, I practice with a simple, easy-to-understand approach to health:
Health comes from within us; it is our natural state of being.
Our bodies are designed to grow, repair, heal and thrive.  It is often the accumulation of stressors, be they from our diet, our environment (both internal and external) or simply our daily patterns of living, which often precipitate a health crisis.  I have found that with specific attention to our basic internal structure, we can learn more about these stressors, and gain direct access to their correction and removal.  To that end, it isn't uncommon for me to hear my patients state that after time in care, they feel better than they have in YEARS.
If this approach sounds good to you, give Heartstone Family Chiropractic a try.
Don't forget to read and accept Heartstone Chiropractic's Policies and to complete the Patient Intake Form to save time during your first visit. That way, I will have a complete record for your care.